So… January can feel like a drag… it contains a day regarded as one of the most depressing days of the year and has all the traits of short days and long cold nights. I thought I could easily overcome this by extending my obvious insanity and so decided to enter the Cold Christmas 50K Trail Ultra!
Yes… this time it was all my own doing and my wife did little more than watch as I entered without really studying the course… Well, there wasn't really any alternative since this is the kind of Trail Race that runs on Narrative Instruction that are handed out at registration on the day. What this means is that everyone is in the same boat and has to use their navigational skills following abbreviated instructions to work out when and in which direction to turn.
By way of flashback… last Easter, my lovely wife had entered me into a 10k trail race following the same modus operandi. However, I didn't know that at the time and as usual when my wife books me into such races, I turned up assuming all would be straightforward enough since I had trained and was fit enough to compete. However, last Easter, I turned up without my glasses and ready to participate in a pleasant 10K cross country race. Unfortunately, that wasn't going to work and as I suggested to the organisers that I'd be alright as I'd just follow everyone else, they politely informed me that we'd be set off individually. Crap!
Regardless, I ran and held the instructions at arm's length so I could just about read them. Having got around the course at a pace I was happy with and having enjoyed the challenge, I refused to rule out similar races in the future.
Your Map is No Good Here

So… no map for this one and no GPX file for navigation… You operate purely on a set of abbreviated instructions such as TL LHFE (Turn Left, follow Left Hand Field Edge); TR DPB (Turn right at Dog Poo Bin); X FB (Cross Footbridge). In our case, it was four pages of instructions broken down into 31 sections where each represented around a mile of the course. I studied the map for a little familiarisation – principally with the elevation via the contours but there was little else that was going to help me being from outside of the area.

The finish (our assembly point) was bustling with a mix of activity with runners performing last looks in their kit and grabbing a quick caffeine fix from the well-stocked kitchen.
Lonely this Christmas
So back to Christmas… or Cold Christmas to be precise. Cold Christmas is actually a lane in Thunbridge not far from the start of this 50k/31m muddy trail race. We arrived en-masse by coach having pre-assembled at the finish in High Easter, a village in Essex.
A short walk down a lane to find ourselves adjacent to the River Rib and we are ready to go. I initiated a few conversations of the usual content 'is this your first time here', 'travelled far', usual anodyne material but really just to see if there was a like-minded person who would be an ideal running partner. In this case, I'd left it too late and should perhaps have used the time on the coach to do this but that was my time for last looks.
As a consequence, this meant that I was setting off on my own. Sometimes this is useful so as to ensure I run my own race at my own pace… other times, like today, it was less helpful as I pressed a little too hard and deviated from my planned pace to stay near the front of the field.
Great for the Goat Less Good for Christmas
My kit choices had seen me select my Montane Running Tights, WAA running shirt, buff, Injinji Trail Socks, Salomon 5l ADV Skin hydration vest and a pair of Altra Lone Peak 4.5 shoes.
I based my shoe choice on how well they performed on the Goat in December. On the Goat, the bogs were waist deep and mud dominated almost all of the course. The shoes worked brilliantly there and remained sticky and grippy throughout.
However, the mud on the Cold Christmas Race was sticky and quite dry – very clay like. What this meant was that the mud stayed clumped to the soles of the shoes and very quickly, they became smooth like road racing flats. My mistake here was to choose the Lone Peaks instead of the King MT which has a definite advantage with its Vibram outer sole. Sometime during the first nine miles, I placed my right foot on a raised camber and it slid down, under my centre of gravity and met the top of my left foot. The resultant rolled ankle was painful… very painful.
This quickly dampened my pace. It never crossed my mind to DNF, instead I fumbled around in my pack whilst limping along and grabbed a couple of pain killers, quickly slapped a little KT tape around my ankle and on I went… total slow down/stoppage, two minutes!
Ouch, Ouch and Once More Ouch
My ankle was hurting but pace adaptation and a slight modified run/hobble meant I was able to proceed so off I went. I quickly put the pain out of my mind, perhaps around the same time the pain killers kicked in and continued on and through to the first checkpoint around nine miles from the start.
A very brief chat, a cup of orange squash and a Jaffa Cake and I was off… I didn't really want too much sugar but I have a real weakness for Jaffa Cakes! I try to avoid too much sugar early on as it sends me to sleep. I countered this with the Tailwind Tropical Buzz (caffeinated) mix in my right soft flask and I was golden. Off I went following someone I had briefly chatted with earlier and we made our way in tandem down the road through Much Hadham.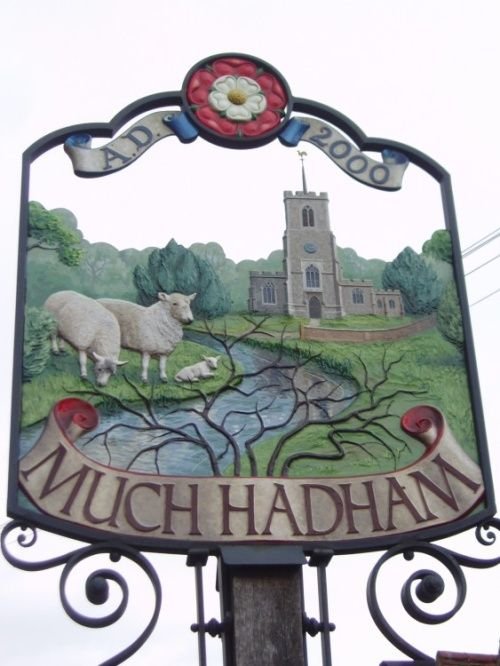 No Time for Lounging Around
In next to no time, I was back on my own again and heading past the 'Old School House' and across the road, out of the village and back on the trails. A mile or so later and I was heading up to one of Henry Moore's sculptures reclining in the middle of a field!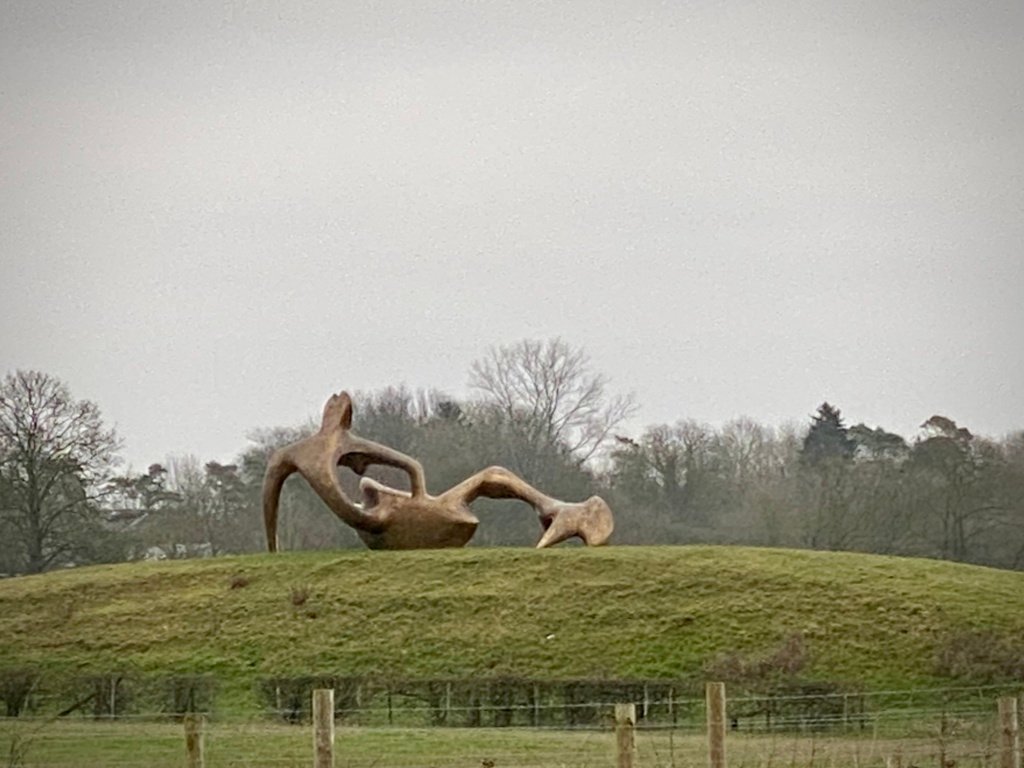 It was crazy… middle of a field with nothing but footpaths and a piece of amazing art!
I continued on and followed the instructions to the reach a farmyard and then head down to crack on with some challenging miles. Good news here was that the weather remained dry but it was cold. I popped my Inov8 all-terrain gloves on and pressed ahead.
'AH' on 'EP' to 'X Bridge Over Railway'
I was now running with someone I had chatted with at the start, a mile or so of conversation as we made our way over the railway and on to Rushy Mead Nature Reserve. In no time, we joined Jenkins Lane and ran up a gradual drag for 700m or so. Before long we were heading under the M11 motorway via a field of mud reminiscent of a modelling clay and slurry mix.
Emerging from the foot tunnel on the other side of the M11, I was on my own again and was only a mile from the next checkpoint. I picked up the pace again and soon found myself running up the road and into Great Hallingbury. Up the 150m drag, across the road and I arrive at the next checkpoint greeted by my wife and my youngest daughter.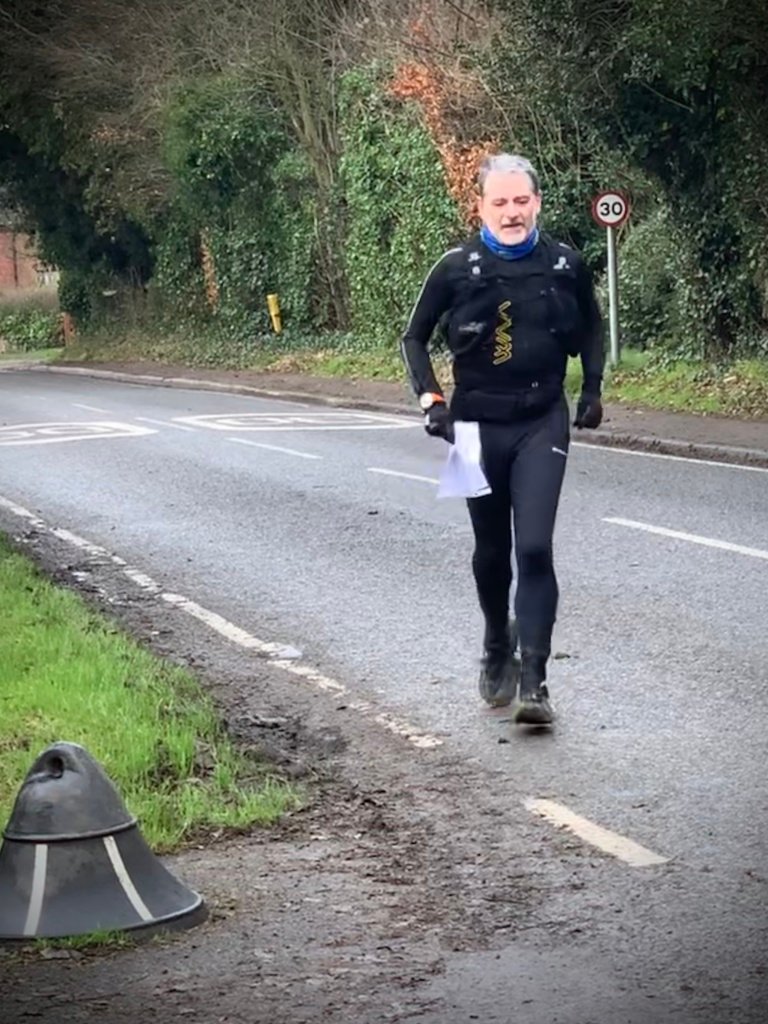 Marshalls at the checkpoint were great and took both of my soft flasks and refilled them whilst I had a brief chat with my wife, discussed my ankle and how insane I am and then I was off again.
No Names, No Pack Drill
I continued diligently with the instructions and continued into the Flitch Way Country Park. It was muddy… very muddy. I was catching up with a small group of runners and made good progress… around 200 metres from them, I was forced with a decision to turn and follow the routine, where they had obviously taken a wrong turn.
Whether deliberate or not, they were avoiding the mud I now found myself ankle deep in but I remained confident that I was following the right routing as it matched the instructions exactly… When I crossed the final part of the park and headed out onto the Flitch Way, I had no idea where they were. As I passed Stane Street Halt, I could just about make them out at the edge of my vision… they had clearly put quite a bit of distance between them and I. The was slightly demoralizing as I know I followed the route correctly but now was further behind them then before we entered the park!
Now… I don't really like the Fitch Way. I find it a tad tedious and struggle to keep on the pace… It's a disused railway and a bit monotonous. I covered around three miles with two simple instructions indicating to stay AH (ahead).

Church, Farms and Hare Coursing
Turning right, I eventually left the Flitch Way and tracked down past a pond and on towards a Church. Through the Graveyard and on towards a farm. Couple of runners appear around 200m behind me. Damn… Press ahead time.
Nothing major to report but the mud was back. Wet mud then dry mud then wet mud again. I arrived at Coldharbour Farm where I met an unhappy farmer. "Not me gov", I proclaimed to which he replied… "have you seen the Hare Coursers"?
I hadn't. After a brief exchange, he asked me to call the police and quote Operation Galileo and quote my 'what three words' reference if I did see the Hare Coursers.
It was a short distraction but good to talk to someone for a minute or so and then I was off and, on the trail again. I'd been tipped off that it was easy to get lost in this area and the instruction did seem to navigate me on a fairly technical route through and around the farm but I followed them. As I was arriving at the Windmill near Aythorpe Roding, I realised I had more than doubled the gap between myself and the runners behind… result!
The Final Checkpoint
Aythorpe Roding was the last Checkpoint and I arrived and thanks to my wife and youngest daughter, I necked a 500ml bottle of Pepsi. I told them I wasn't hanging around. They hadn't really appreciated that it was only 5km ish to the finish!
I looked over my shoulder and saw another running leaving the checkpoint and I asked him if he fancied running it in to the finish with me.
He accepted the invitation but explained he was spent and would slow me down and I should go ahead if I wanted to press on… regardless we ran together having a great chat about our experiences on Ultras. The time/distance just disappeared and in no time at all we arrived at the finish and finished together. I hadn't compromised my pace and he had kept on it. We arrived at High Easter where we had boarded the coach several hours earlier. Result.
I had essentially run 45km ninety percent on my own and the last 5k in the company of others… The last 5k was probably the most enjoyable on this one!
Special Thanks
As usual these go to my wife and family… their encouragement, support, tolerance and sense of humour… this is run one of at least eight I have lined up for the year – more to follow!
Thanks also to the great team of volunteers and roving marshals… great bunch of people who couldn't do enough for the runners. This was obviously an event run by runners… for runners!
Finally, thanks to anyone who randomly engaged me or helped me. That's what I love about Ultra running… it's the runners, the community and the people that push themselves through thresholds others struggle with… You're a great bunch of people. See you all on the next one.
Geek Stats
My Garmin indicated I had been moving for 6 hours and 25 minutes and my official finish time was around 27 minutes longer. Part of that time was spent sorting my ankle… the rest, stopping to read instructions and to refill soft flasks.
Pre event comms… 4 out of 5.
RaceHQ Organisation and Pre-Race Briefing… 5 out of 5.
Course Map/Directions… 5 out of 5.
Marshalling… 5 out of 5.
Food and hydration at RaceHQ/CP… 5 out of 5.
Medal, mementos and results… 3 out of 5 (Event Buff/No Medal)
Course difficulty… was it a real challenge: 3 out of 5.
Overall… 30 out of 35
Kit Appendix
Main Kit
Montane Thermal Via Trail Tights
Injinji Trail Toe Socks
WAA Ultra Running Shirt
Inov8 All Terrain Gloves (initially in pack)
Altra Lone Peak 4.5 shoes
Garmin Fenix 6 Pro
East Essex Tri Club Buff.
Salomon ADV 5l Vest
In Pack
Inov8 Extreme Thermal Beenie
Under Armour Base Layer (in Ziplock bag)
Tailwind Drink Mix Fuel
Caffeine Gummy Bears
Saltstick tablets & Pack of codeine painkillers
2 x Packs of Cliff Bloks
Silva Ninox 3 Head Torch
Apple iPhone 11 and battery case
Emergency Foil Blanket
Inov8 Stormshell